Year 1. Session 4. Weeks 2 & 3.
"Life's most persistent and urgent question is, 'What are you doing for others?" – Dr. Martin Luther King Jr.
"The Martin Luther King Jr. holiday on Jan. 20, 2020, marks the 25th anniversary of the day of service that celebrates the Civil Rights leader's life and legacy. Observed each year on the third Monday in January as "a day on, not a day off," MLK Day is the only federal holiday designated as a national day of service to encourage all Americans to volunteer to improve their communities." – nationalservice.gov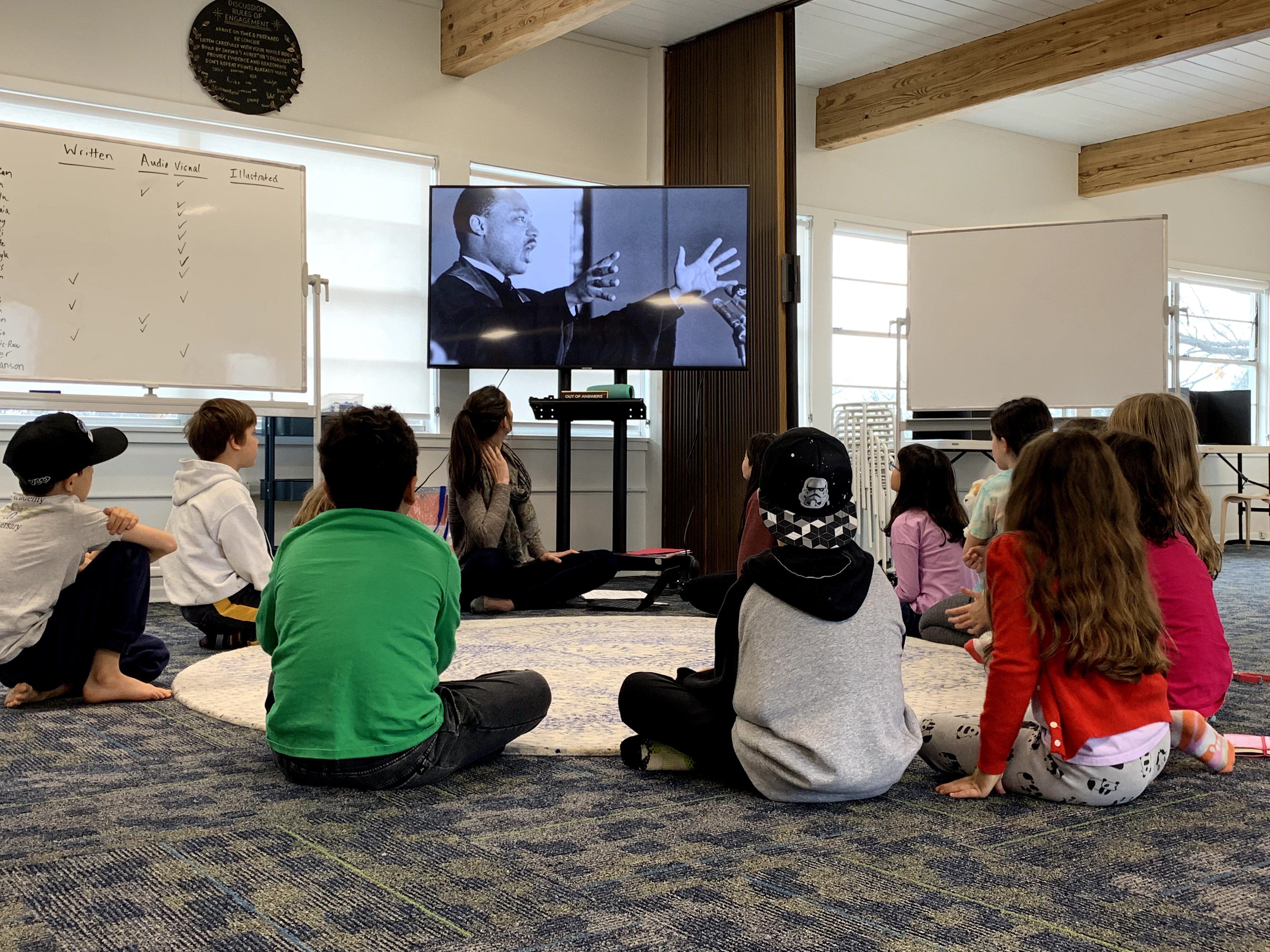 The Ascent Eagles learned more about Dr. King's work as they dove deeper into determining how exactly they want to serve their community during this week's Service Learning launch.
Add some discussion prompts from launch
We are excited to see what the group ultimately decides to move forward with in the coming weeks to provide stewardship and support for their community.
The Eagles also had a visit from Mr. Adam with The Expedition School this week to launch their upcoming field badges for the session: Rock Climbing and First Aid!  They will learn beginning skills such as tying knots, belaying and strength exercises while they explore heroes in climbing and the world's best rock climbing locales, all on the path to discover their various passions and callings.
Throughout their work on their First Aid badge, the Eagles will learn health basics like why we need to wear sunscreen, what would happen if we didn't drink water and what happens during a heart attack. They will also learn the Red Cross First Aid Steps and create their own personal First Aid kits.  This session's Field Program will culminate with a day at Crux Climbing Gym and a trip to the local Fire Department to fulfill the final requirements of each badge!
The Frank Lloyd Wright Architecture Quest continued along this week as the heroes wrapped up their research before moving into the sketching (drafting) phase.  As architects, they have been challenged to produce both floor plan and elevation sketches for a "Dream Acton Academy" building before moving on to labeled blueprints drawn to scale.  They will have this upcoming week to put their finishing touches on their sketches and blueprints before moving into the construction of their scale models.
Technical Writing introduced a few new tools to assist the Eagles with their instructions for their individual home activity, such as storyboards and WeVideo!  The excitement is palpable in the studio during these time blocks as they work to hone their instructions for baking, smoothie-making, knitting, slime-concocting and everything in between.  Next week their instructions will be put to the test by their peers as they each work through another's set of instructions to see if they can recreate the activity at hand!
The energy was also high while the Eagles continued working with Ms. Indigo in Art and during kickball in PD!
Week 3
The studio fought to stave off the sickness bug that seemed to be floating around during the short week.  Those that remained were focused on the task at hand and those who returned jumped back in with vigor and excitement as the studio used some additional time to focus on Writers' Workshop and the Architecture Quest!
The Eagles welcomed Ms. Abby, an Elementary Guide from Acton Washington D.C., into their studio as she was visiting this week to observe the incredible culture this young group has created!  She'll be returning back to her school with new takeaways and best practices to share with her studio while leaving Ascent Academy with some new tools to utilize as well.
With week three under wraps, the Eagles move toward week four with an eye on preparing their WW and Quest work for another exciting exhibition as well as making a final push toward completing Core Skill and Badge goals before the session wraps up.  Everyone is excited to see the results of a session of hard work!