Mixed age classrooms called "studios" that inspire strong work-ethic and effective collaboration, outdoor education and outdoor space for learning and free play.
No homework or frequent testing.
Self-directed learning using Montessori manipulatives and goal setting.
Socratic discussions fostering important communication skills and critical thinking.
Spark
Ages 4-6
The Spark Studio is designed to build the math, reading, self-regulatory, and social skills needed for success in the highly independent Ascent Elementary Studio, or wherever their journey takes them next.
Our Eagles help establish the rules in their Studio and meet for weekly Town Hall meetings to identify, discuss, and vote on issues that affect them. They practice basic goal setting and complete challenges at their own pace to earn learning "badges" in math, reading, and citizenship. The rest of the time, they learn through exploration in a series of hands-on project Quests and present what they've discovered at an exhibition at the end of each Session.
Give your 4 to 6 year old the opportunity to:
Learn through play and hands-on exploration
Practice basic goal setting
Identify issues and vote on solutions
Move at his/her own pace in mathematics and literacy
Strengthen self-regulation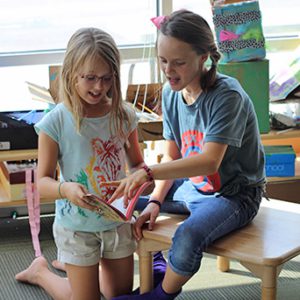 Elementary School
Ages 7-11
At our Elementary Studio we lay the foundation for the joy of learning as we encourage our young heroes to find their life's calling and tap into their unique genius. Our well-balanced educational experience ignites curiosity, creativity, and the ability to ask good questions.
Ascent Academy Elementary School Students have the choice of continuing on to the Middle School Studio at Acton Academy Austin (the original campus).
Measuring Mastery
Young heroes celebrate the mastery of tools, skills and character by earning badges, assembling portfolios and taking part in public exhibitions.
Parents use badges to track academic progress in Core Skills like reading, writing, math and spelling and character development in "Learn to Be" Badges.
Electronic and hard copy Portfolios capture rough drafts, photos, video and other creative work.
Public exhibitions at the end of most Quests allow young heroes to present work to experts, customers or the public for a real world test.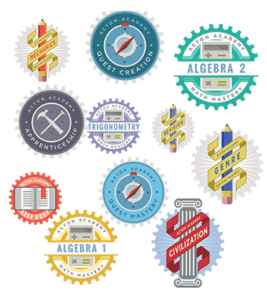 Experience "A Day In The Life" At Ascent
The education our son is receiving is so far beyond any traditional school experience he has had thus far.  Acton is providing our child with "real world" skills that will be necessary for him to not only thrive and excel in his education, but also to identify what would be a meaningful, purposeful path for his future.

Wendy M. — Parent