Our Philosophy of Learning
We believe that:
Clear thinking leads to good decisions,
Good decisions lead to the right habits,
The right habits lead to character and
Character becomes destiny.
Spark
(Primary)
Ages 4-6
The purpose of Spark is
to foster academic, physical, and emotional independence through developmentally appropriate works inspired by Maria Montessori,
to spark curiosity through hands on experiences and play-based challenges, and
to equip learners for the next steps of their journey by applying the Hero's Journey philosophy.
Discovery
(Elementary)
Ages 7-11
The purpose of Discovery is
to develop self-awareness and independence through reflective processes and freedom within boundaries,
to discover a joy for learning through a balanced learning design, and
to ignite curiosity through a wide range of challenges and experiences.
A Day In Spark
Walk into the Spark Studio and you will see an empowering physical space where learners are comfortable navigating independently, allowing their curiosity to drive them. During the first half of the day, learners explore Montessori works during their protected Work Cycle.  Learners are working on a variety of different challenges throughout the studio and have great choices, following Maria Montessori's philosophy of offering 'freedom within boundaries'.  In the afternoon, learners engage in Spark Play, focused on utilizing the outdoors with unstructured loose parts to cultivate their creativity.  While some learners may be building large structures to climb, some may be in the orchard picking pears or finding new insects, while others may be playing with our pet chickens!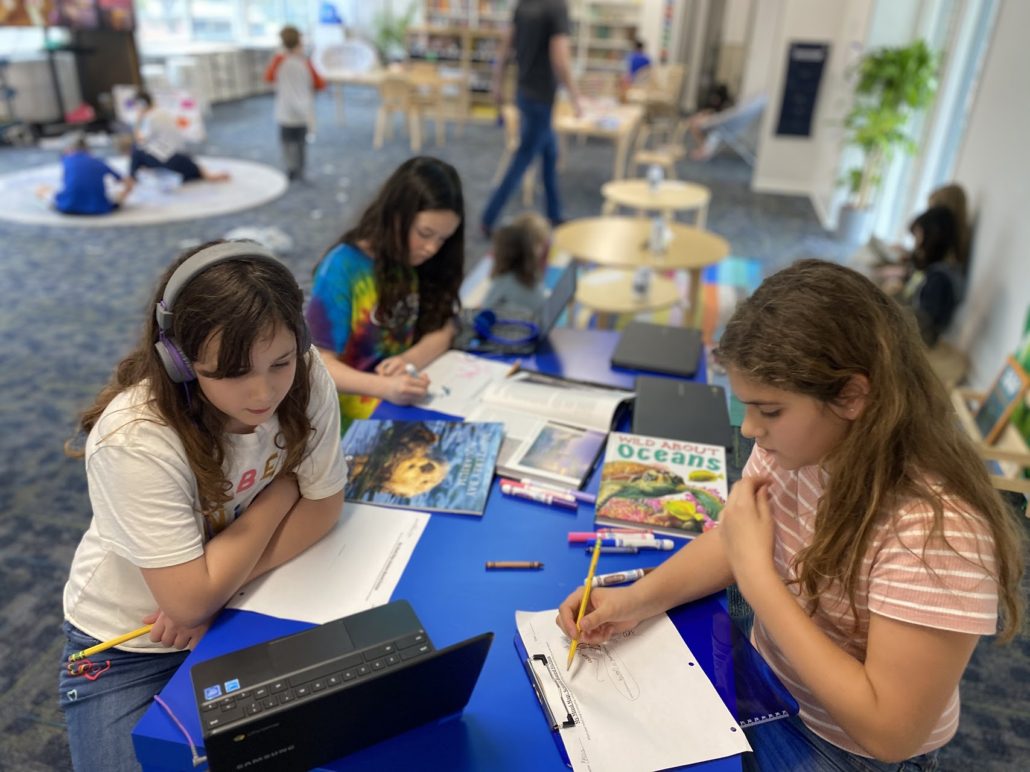 A Day In Discovery
When you first enter the Discovery Studio, what will strike you is that it does not feel like a classroom at all. It does, however, resemble a collaborative, working studio-environment.  Learners set their intentions for the day and the learners in Discovery get to experience a blend of independent work time, the content of which is determined by their personal goals, and collaborative hands-on projects that expose them to various fields of study and potential Callings on their Hero's Journeys, for 6 weeks at a time. With ample space, and options throughout the campus, you'll find throughout the day, children engaging in the outdoors choosing to read in the orchard, running under the trees, collaborating on the deck, creating in the kitchen, or focused and engaged independently at their table in flow. Beyond all this, learners engage in riveting Socratic discussions and debates, on topics ranging from current events to culinary skills, all with the purpose of putting them in the shoes of a hero who will make decisions.
A Learner Driven Community
Students create and sign a Contract of Promises describing how each individual will act and the consequences for violating community norms.
Mentor teams encourage younger and older students to listen, affirm, set goals and hold each other accountable.
21st Century Learning
The latest in educational tools and technology for self paced mastery of reading, writing and math skills.
Deep Socratic discussions about heroes, history and self governance to hone critical thinking skills and the ability to powerfully think, write and speak.
Hands-on Montessori Works and project-based Quests to master the tools and skills needed to solve problems in the real world.
Written promises and covenants that form a tightly bound community of individuals learning to form authentic friendships and honestly resolve interpersonal problems.
Measuring Mastery – Discovery
Young heroes celebrate the mastery of tools, skills and character by earning badges, assembling portfolios and taking part in public exhibitions.
Parents use badges to track academic progress in Core Skills like reading, writing, math and spelling and character development in "Learn to Be" Badges.

Portfolios and the Journey Tracker (our internal goal-setting and tracking software) captures rough drafts, photos, and other creative work. 

Public exhibitions at the end of most Quests allow young heroes to present work to experts, customers or the public for a real world test.
Ascent Academy Discovery (Upper Elementary) School Students have preferred seats if they make the choice of continuing on to the Middle School Studio at Acton Academy Austin (the original campus)
Experience "A Day In The Life"
The education our son is receiving is so far beyond any traditional school experience he has had thus far.  Acton is providing our child with "real world" skills that will be necessary for him to not only thrive and excel in his education, but also to identify what would be a meaningful, purposeful path for his future.

Wendy M. — Parent